Heavy-duty, industrial, military grade, outdoor thread is used on the entire screen. Each screen has a heavy-duty marine grade zipper
We take great pride in our screens and want all of our customers to be very satisfied with their purchase. Please come along as we explain why we have the best screen product on the market. Our screens are made at our facility here in Michigan. We have 5 people sewing screens.
Each person sews a screen from start to finish and puts their mark on it to insure each screen is made to our quality standards. Screens are sewn with industrial lock stitch machines to guarantee no unraveling or coming apart.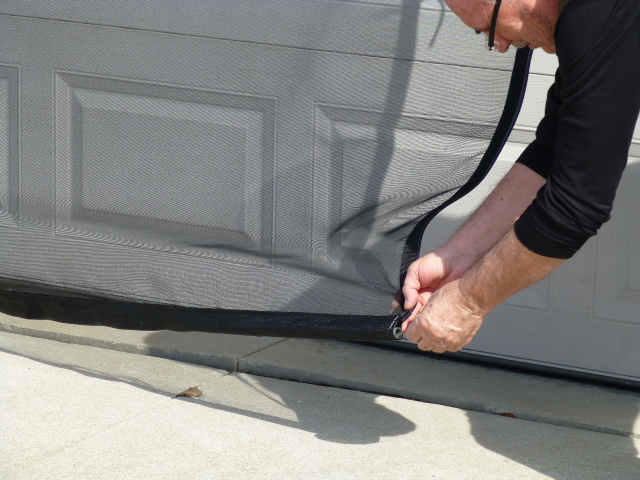 Heavy-duty, industrial, military grade, outdoor thread is used on the entire screen. Each screen has a heavy-duty marine grade zipper and a double slider sewn on to it for easy entry and exit from inside or outside of your garage. Each side is equipped with a double material, double lock stitch, to prevent any zipper problems. Sewn on each screen is military grade loop webbing.
There is loop fastener sewn on both sides and the top .Our loop fastener has a pull strength of over 300 pounds which is 20 times more than we need. Also sewn at the bottom of each screen is a military grade, all weather pouch for inserting a piece of conduit or PVC for windy climates. Screen material is charcoal color, 18/14 mesh vinyl-coated fiberglass screening made here in the U.S. Our screening is constructed of vinyl-coated fiberglass yarns which is strong, resilient, and easy to install. Our standard screen includes 2 zippers, one zipper on each side 1 -1/2 inches in from the end. Our standard two zipper screen is our most purchased option. We also offer screens with no zippers, one middle zipper, and 3 zippers.
Our most popular screen with a zipper on each side that allows the screen to roll up with frame of screen staying secured to hook fastener.
Works just like 2 zipper screen with a additional zipper down the middle which allows for additional entry or exit.
Has a zipper down the middle for entry and exit screen does not roll up unless it is detached from garage.
No zippers screen ,only way to exit or enter is to detach screen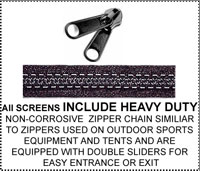 Choosing The Right Garage Door Screen Systems for you or your company is simple. The screen will not crease, dent, or unravel and also withstands all climates, salt air, and industrial fumes. The screen is not easily damaged and is virtually "carefree". We manufacture our fiberglass screens under strict standards to assure that the colors are consistent and the mesh is uniform.
We use the same screen material that screen contractors nationwide use to make pool cages, screen porches, lanais, and patio enclosures. This screen is the best available. To clean screens, simply wash down with a hose just like you would do with the screen on your home.
We have sold thousands of garage door screen systems to major companies and individuals. These include bakeries, machine shops, indoor volleyball courts, breweries, candy makers, farmers, cattle ranchers, homeowners, condo complexes, restaurants, motorcycle and car dealers, meditation groups and more. There are numerous uses for our screens including garages, patios, decks, carports, porches, sheds, pole barns, horse barns, chicken farms, pergolas, cabins, cottages, dojos, and many more. We have shipped screens to almost every state in the union and to many countries.
                                                                                                                   Shipping and Returns
We guarantee your screen to be the best available and our policy is if for the screen is not what you were looking for, just send it back to us within 3 days and we will refund your purchase price. No questions asked.
We ship in stock sizes in 72 hours from when you place your order. All orders are shipped via UPS ground. 
Please check out our customer 100 % satisfaction feedback on eBay, where we have sold hundreds of screens. Please feel free to email us with your ideas, thoughts, or remarks on our product and website.